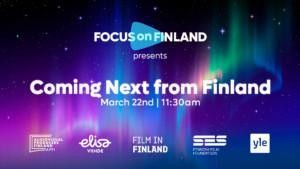 FOCUS on FINLAND proudly presents the Finnish showcase with seven upcoming drama projects in development. Come and enjoy this handful of carefully selected productions that are all seeking international partners.
The projects are:
The Town of Tails (fantasy/mystery) presented by Mark Lwoff, Producer & Minna Panjanen, Creator/Bufo
Nordic Horror Masters (horror) presented by Aleksi Hyvärinen, Producer & Taneli Mustonen, Creative Director/Don Films
Valhalla Project (drama/mystery/sci-fi) presented by Juha Wuolijoki, Director – Producer/Snapper Films Productions
Guts (drama/thriller) presented by Samuli Norhomaa, Producer & Jemina Jokisalo, Creator and Head Writer/Solar Republic
Raspberry Hill (thriller/horror) presented by Teresa Ekman, Producer/Söder Films
Crash Plan (nordic Blue/procedural crime) presented by Eero Hietala, Producer/Take Two Studios
Lempi, Her name is love (thriller) presented by Miira Karhula, Creator and Head Writer & Seija-Liisa Eskola, Creative Director, Head of Scripted/Warner Bros ITVP Finland
Moderator: Marike Muselaers
You can view all our productions here: CATALOGUE 
FOCUS on FINLAND promotes the visibility and international awareness of Finnish content. The partners joining Audiovisual Producers Finland – APFI are Yle, Finnish Film Foundation, Elisa Viihde and Film in Finland.